Over the past few years I have been making the pilgrimage out to the Black Rock Desert for my yearly journey to Burning Man. It has always been my dream to have an art piece out in the desert for this event and this year my waking dreams became true.
I was in contact with the amazing team at Light Harvest Studio's who handles all the projection mapping for the PlayAlchemist camp and projects onto a 71 foot tall pyramid in the Nevada desert. They were looking for artists for Burning Man 2022 to have their art projected on the pyramid and I was one of the lucky few to be chosen to have some of my AI art showcased.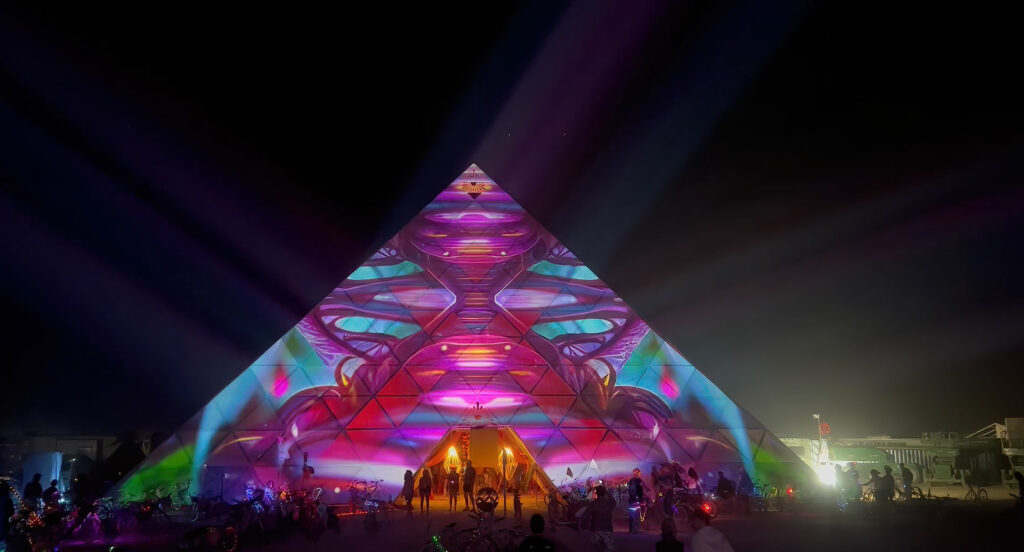 I had already created several Disco Diffusion and Huemin Jax animations but needed to figure out what artwork of mine works for the template they gave me and be able to push the resolution they needed.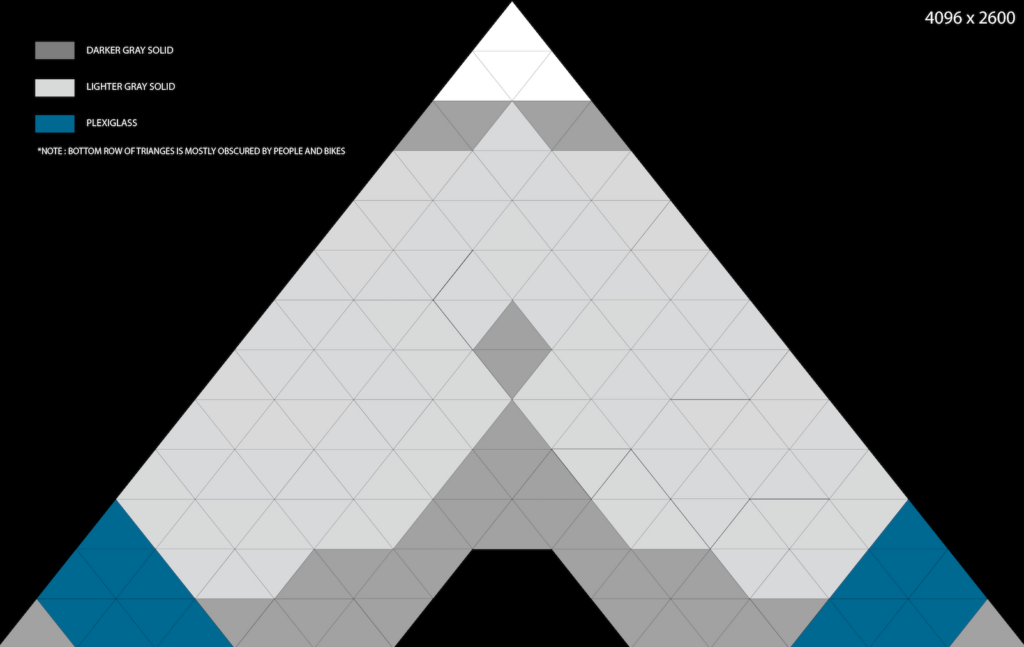 So after digging through 100's of videos I have done in the past, I put together a showcase of my top videos that I liked personally and ended up with over 31 minutes of video. You can view the whole video here.
Most of my videos were already at 4k. I use the amazing Video Enhance AI tool from Topaz to upscale my videos or single sequence of images into higher quality videos. I had to re-render all the videos to the proper resolution of 4096×2600 and then put together an edit in Adobe Premiere with the alpha mask of the triangle, export out the final versions and convert them to the proper format they needed.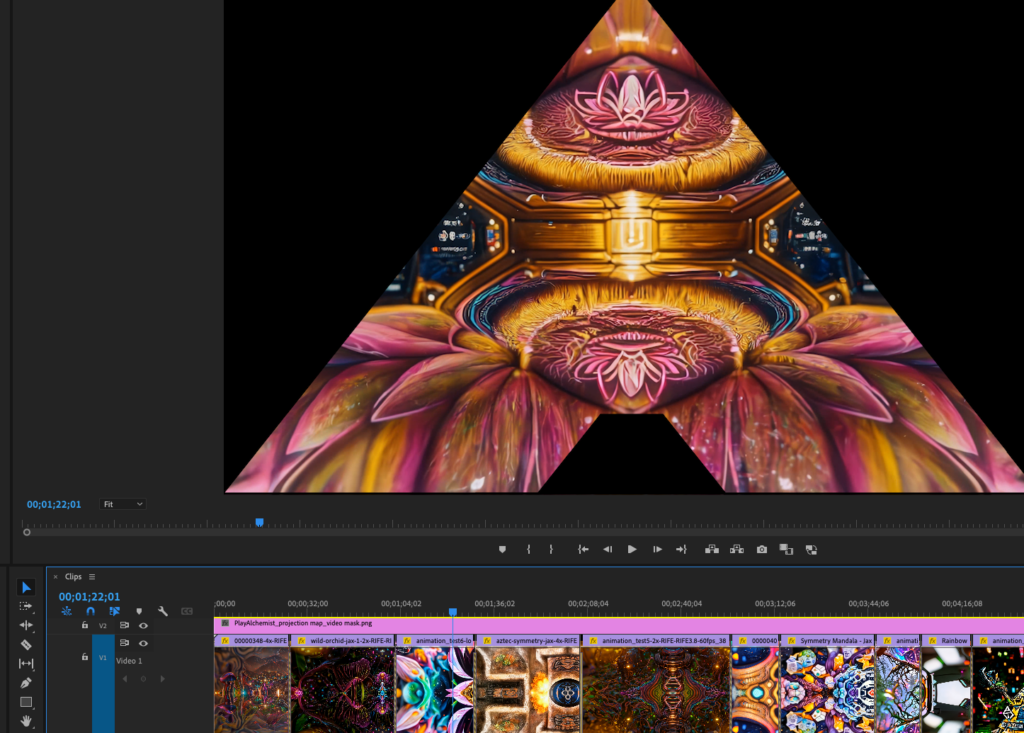 So I sent these off to Light Harvest Studio and with Burning Man just around the corner started to pack all my gear for the event and prep for being in the desert for 14 days. I usually get in early to help my camp set up and take drone photos and videos of the various art pieces at Burning Man sometimes. Burning Man allows officially only 30 pilots to fly each year so its always an added bonus for being one of the lucky ones to fly.
During Build week I made my way over to PlayAlchemist to see how the construction of the Grand Pyramid was coming along and I was able to see a sneak peek at some of my work prior to the event opening up. I was blown away to see my AI art on this amazing 71 foot pyramid and was a bit giddy with joy that I had finally achieved one of my goals in having art out on the playa and on a freaking huge pyramid for all to see!
I put together a small 4 minute clip that mixes the footage of my art on the Grand Pyramid and the original art produced to this amazing song SHAED – Trampoline (Jauz Remix), check out the video below and let me know in the comments what you think!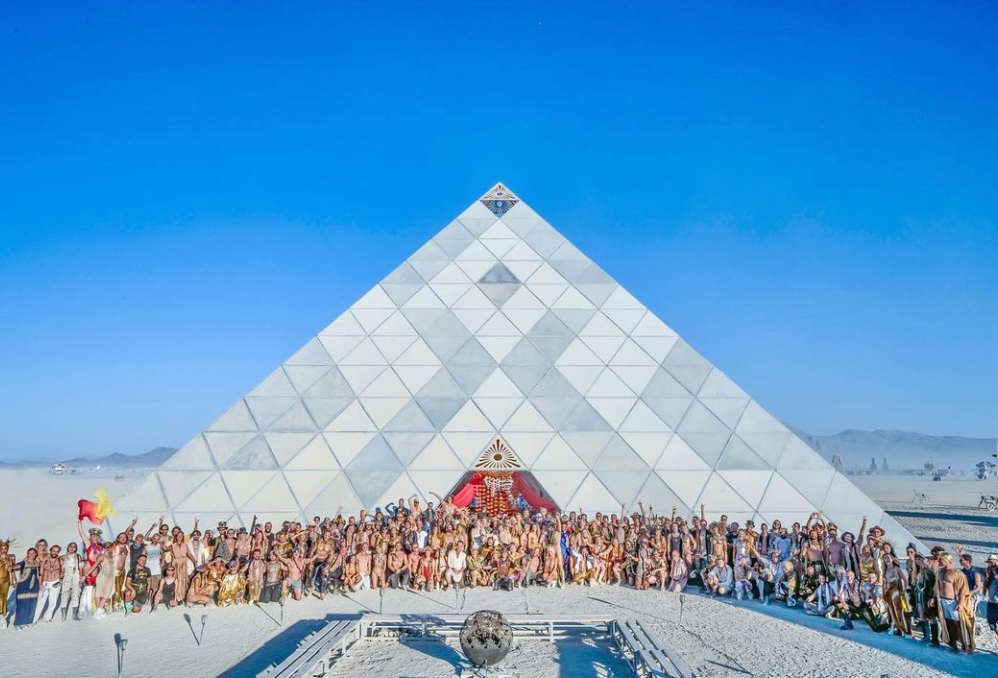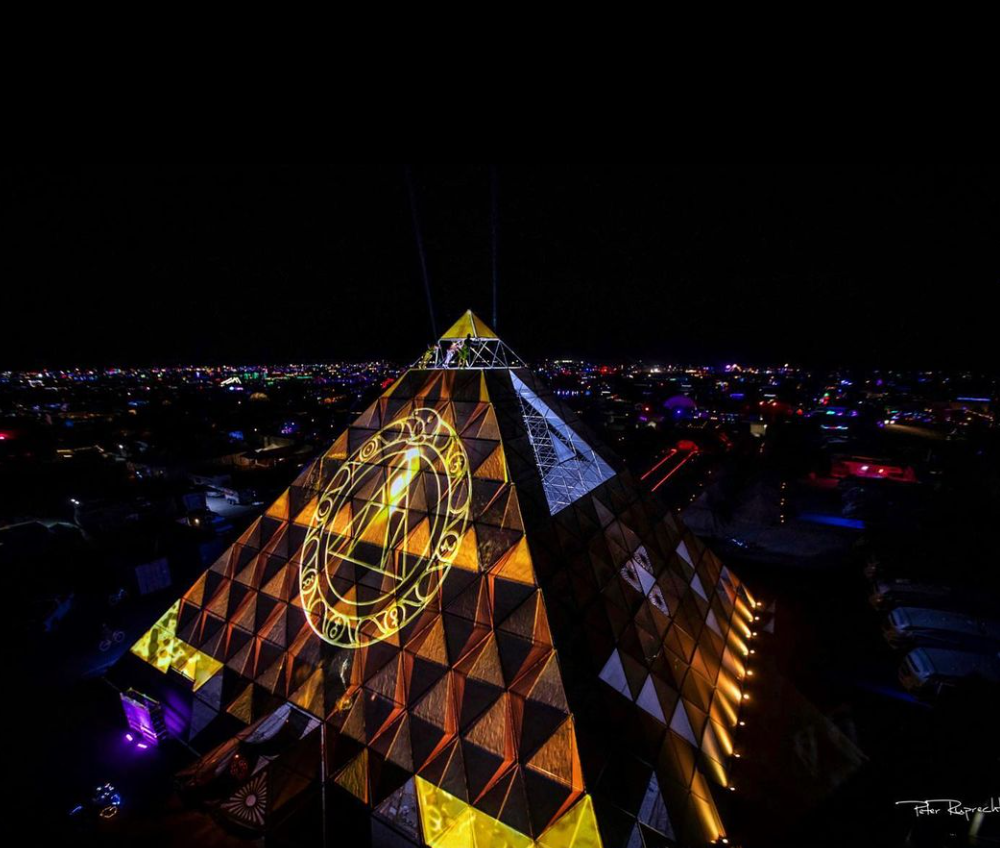 About PlayAlchemist
Experience radical metamorphosis on a journey through the seven stages of Alchemy, in synergy with the seven days of Burning Man.
Throughout history alchemy has been recognized as the process of transformation. This year at Burning Man we embark on our own journey as a community called PlayAlchemist.

The illuminated focal gathering place of PlayAlchemist is the Grand Pyramid, where one can experience a spectrum of solitude, raised awareness and transformation. Once inside, find peace and tranquility, commune with others or embark on a personal journey of discovery. After dark, reflect, connect, and find new experiences in heightened presence where music, lights and atmosphere converge to challenge your perception of what's possible.

PlayAlchemist. Discover your innate connection to the cosmos, elevate your consciousness and come alive with us.

Source playalchemist.com
Links
Special Thanks to Ryan of Light Harvest Studio, Huemin for creating an amazing notebook to allow me to generate these amazing art pieces, and the whole team at Disco Diffusion!